Kutaisi car rent – cheap rent a car in Kutaisi
Loading...
Kutaisi is the main city of western Georgia, which is visited by many tourists and businessmen. Rich heritage and historical monuments attracts lot persons to travel in this region. The most convenient and right solution is to rent a car from company "Naniko" and plan your personal itinerary.
Car rental company Naniko gives you the opportunity to book the car promptly in any point of Georgia or in other countries.
What we offer:
* The best prices;
* New vehicles;
* Flexible and easy changing or canceling of online booking;
* Wide range of different types autos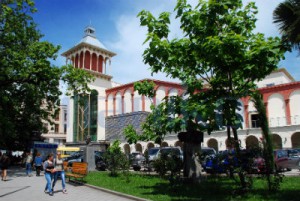 Customer's service quality control is the base concept of our company. We accompany our clients on phone from the beginning of booking and during the full period of rent. Our online support phone is functioning in 24/7 mode.
At our web-site you could get complete information concerning the rent conditions. In case of any questions you can apply to Naniko's call-center. Beyond all doubt trip in a rented car is more pleasant than in personal car, especially if the road quality is poor during extreme trips. Auto voyage will give you a new experience and provide with an opportunity to see the places which are not put in guidebooks.
Kutaisi will not leave you indifferent. Some of the sightseeing's of the city are listed in UNESCO world heritage: church of Bagrati, Gelati monastery and Academy, church Motsameta, unique caves of Sataplia and Prometheus.
Cooperating with us you release yourself from the burden of finding appropriate transport. This will assure that your journey is comfortable and saturated.